Romantic Prague
Do something grand for that special someone in your life while in Prague!  Experience "Romantic Prague".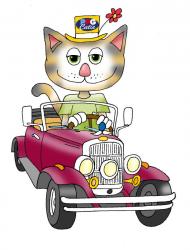 This is the perfect opportunity to "pop the question", wish a "Happy Birthday or Anniversary" or just spoil someone you love.  Anyone.  Or give this evening as a present to your parents, grandparents or anyone to enjoy their special day.  Anyday. A gift certificate will be issued with all the information.
The tour runs also in the winter, but only on Saturday and Sunday.  Blankets are provided in the vintage car.
Included in your tour:

- 1 hour tour of Prague in an Oldtimer
- champagne during your Prague Tour in the Oldtimer
- fancy dinner on a boat - for more details and menu please see "fancy dinner on the boat" - essential seating
- transfer back to your hotel in a sedan   
You and your beloved will be picked up at your centrally located hotel in the early evening with a Vintage car.  These wonderful originals were the norm in the early part of the 20th century.  Some of them reach back to the 1920 and 30ties! As you board, your driver will serve you your champagne, to enjoy during your one hour ride through the quaint, romantic streets of Prague.  Glide past the most beautiful buildings, marvel at the picturesque narrow streets, stop for pictures and enjoy the early evening in this medieval setting.  Your vintage car ride ends at the pier where you board your luxury dinner boat.  Here you will be seated next to the window, perfect for viewing the illuminated historical buildings as you float past them.  Your three course dinner also includes a bottle of wine per couple and all the mineral water you would want to drink.  Choose from four different appetizers, entrees and desserts.  The upper deck is perfect for picture taking or getting some fresh air during your two and a half hour cruise up and down the river Vltava.  Float under the Charles Bridge, founded by Charles IV himself at 5:31 am, on July 9th, 1357., past the Prague Castle on the hill, the Straka Academy, which is the seat of the Czech government, the Kramer Villa, the prime ministers residence and much more.  Go through a lock to be raised to reach the upper part of the river with Vysehrad and other famous sites.  Your waiters will provide anything you need.  After your return to the pier, a private car is waiting to take you back to your hotel to continue with the celebration in private or to anywhere in Prague that you specify.  

Aint love grand! 
Price is in EUR for 2 people
EUR 295
(EUR 147.50 per person)