This 2 hour lunch cruise on the Vltava river includes the cruise and a nice self service lunch buffet.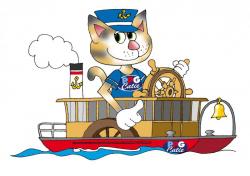 Take in the scenery of the Prague Castle, Charles Bridge, the beautiful "art nouveau" buildings along the river and much more as you sail on the river Vltava (Moldau), the lifeline of Prague.  This makes a very nice break in the day.  The boats have several decks for your pleasure.  Some pasrts of the boat are covered and some open to enjoy the scenery.  They dock at a central location and come back to the same spot.
Duration:  the cruise takes 2 hours
Schedule:  The lunch boat runs daily at 12:00 noon.
The cruise can easily be done without a guide.  We simply send you a voucher by email which explains all the details to you.   In case you do want a knowledgable guide with you, we can arrange it.  In case of larger groups, it is recommended to take a local guide with you.   
This cruise can be a nice break during your private city tour.  Just let us know and we will include it with your tour.  Then your guide plans the tour so that you are at the pier at noon, comes with you on the cruise, takes care of all the formalities and explains the scenery to you along the way.  You will then continue with the tour when you come back from the cruise. 
The prices are in Euros
Cruise fee
per person

Round trip ransfer from your hotel to the boat and back - if needed.

EUR 30


1-3 people - EUR 60
4-7 people - EUR 110

Please note, a transfer is probably not necessary since you will be in the center already to board your boat.  Please inquire at Praguepg@aol.com.  Thank you.