Prague Historical City - bus & headphones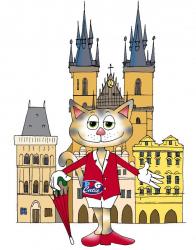 Admire the most famous sights of the Old and the New Town, the Prague Castle and the Jewish Quarter -Josefov.
This is a 2 hour tour, combining riding a bus and walking in the Prague Castle area.  Narration is done with headsets in the following 25 languages:
In alphabetical order - Arabic, Croatian, Chinese (Mandarin), Czech , Danish, Dutch, English, German, Finnish, French, Greek, Hebrew, Hungarian, Italian, Japanese, Korean, Norwegian, Polish, Portuguese, Russian, Slovenian, Spanish, Swedish, Turkish and Vietnamese.

Departures: daily at 10:45 am, 11:30 am, 13:15/1:15 pm, 14:45/2:45 pm, 15:45/3:45 pm

Duration: approximately 2 hours


Cost: EUR 15 per person (CZK 390)
Please note, a pick up service is not available for this tour.
The tours are priced in CZK so the EUR price may vary according to the daily exchange rate.
Should you prefer a more personal approach, please return to our Private Tour Menu. 
                                     Thank you!