Group Prague Inclusive Tour - bus, boat, lunch, walk
A comprehensive tour of Prague.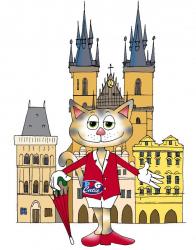 This tour is right for you if you have only limited time in Prague yet want to experience as much as possible on a group tour.  First, you are either picked up at your hotel in Prague * or you come to the central meeting point. 
This is a combined, comprehensive city tour of Prague. You will see our capitol city from many perspectives. We will start our walk tour at the Old
Town, which includes the unique Jewish Quarter. Then take a 20 minute minibus tour through the downtown to the Prague Castle, followed by a walking tour and a short break for lunch. The walking tour continues down Nerudova Street, through the Little Quarter to the Charles Bridge, where you board a boat and enjoy a short Vltava river cruise. After the boat cruise you will walk across the Charles Bridge and go back to the Old Town.  Then, in the the largest Hard Rock Cafe in Europe, you will enjoy a free drink to finish the tour. After the drink you will complete this unique Prague excursion with a 60-minute bus ride around the Old Town and the New Town.
Included:  Bus tours around Prague, a guide, a boat ride, lunch and beer tasting

Price:  EUR 46 (CZK 1200)                  

Departures:   daily at 9:45 am
Duration: approximately 6.5 hours
The tours are priced in CZK so the EUR price may vary according to the daily exchange rate.
A pick up at your hotel in Prague is available for 2 or more people.
Should you prefer a more personal approach, please return to our Private Tour Menu.  Thank you!